Synopsis:
Need Solitaire for your Mac? Switching from Windows and want your Solitaire game back? Then look no further! Download this free version of Solitaire.
Let's Begin:
Many people who switch to the Apple Mac from the Windows PC world are surprised to find there's no Solitaire games included with Mac OS X. Windows users are so used to these games that they may find it strange that they're missing in the Apple world. Who knows, perhaps Steve Jobs doesn't feel that playing Solitaire on your Mac is a worthwhile use of your time, or more likely he feels that it isn't a productive use of Apple's time to provide such games.  But not to worry! Thanks to open source freeware, you can download and install Solitaire on your Mac for free and enjoy playing these classic time-wasting games.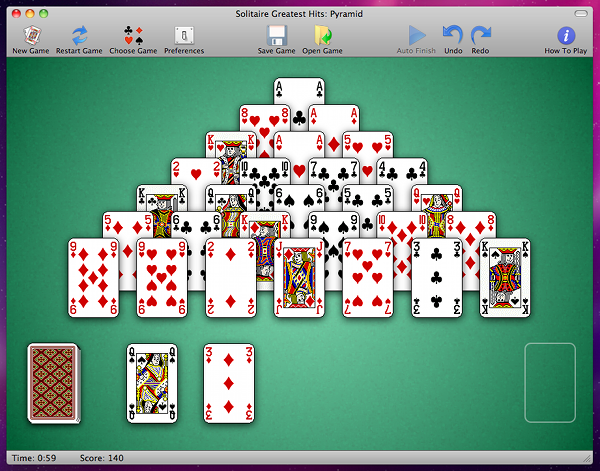 Solitaire Greatest Hits is a collection of popular Solitaire games for Mac OS X. The goal of this project is to create high quality, free implementations of classic Solitaire games that should have shipped with the Mac.
Solitaire Greatest Hits includes Klondike Solitaire, Free Cell, Spider, Pyramid, Canfield, Aces Up, Golf, Scorpian, Yukon, Baker's Game and Forty Thieves.  Solitaire Greatest Hits requires Mac OS X Leopard (10.5) or later.
Click here to Download Solitaire Greatest Hits for the Mac.