Synopsis:
Learn how to delete podcasts from your iPhone, iPad or iPod Touch directly on the device without having to sync it with your computer.
Let's Begin:
When you're done listening to a podcast, it would be nice to be able to delete it to make room to download other podcasts, or perhaps to make room to take more photos or shoot some video.  While it's not exactly obvious how to do it, there is a way to delete podcasts directly on the iPhone,  iPod Touch and iPad without having to sync the device with your computer.  This is a great tip since it's something you can do while you're out and about and away from your computer.  Here's how:
Step 1: Go to the podcast listings on your iPhone (or iPad or iPod Touch) so that you can see the podcast episode you wish to delete as shown in this example:
Step 2: Now swipe your finger horizontally across the episode you wish to delete.  When you do, a "Delete" button will be revealed.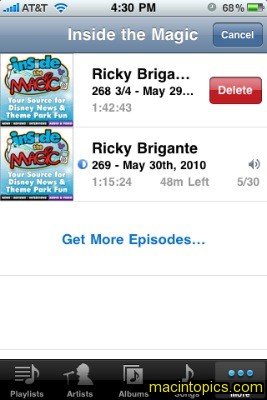 Step 3: Tap the "Delete" button to delete that episode. If you change your mind about deleting it, just tap anywhere else on the screen and the "Delete" button will hide itself again without doing anything.
That's all there is to it. Once a podcast is deleted, the space is immediately available to use and you can download more episodes through the iTunes Store app, or you can use the space to take photos or shoot video.
This same technique can be used to delete and cancel downloads from the iTunes Store app.